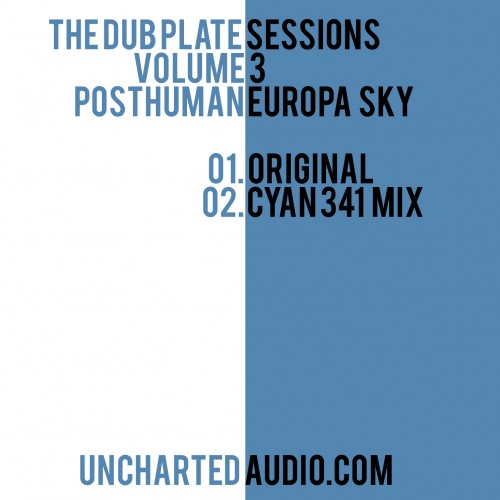 We're over the moon to announce our first new release of 2010. "Europa Sky" by Posthuman brings our Dub Plate Sessions series of 10″ singles to a close, with each featured artist (LJ Kruzer, Cyan341 and Posthuman themselves) contributing an original track and a remix each. Already getting widespread acclaim and DJ support from the likes of Laurent Garnier, Orde Meikle (Slam), Fabric Lig, Chris Coco, Gregor Tresher and a host of others, volume 3 contains the original version of "Europa Sky" and is backed with a remix by Cyan341. Listen in full:
Get more info here, and place your order here – you have the option of buying the digital only version in the format of your choice, or you can pre-order the 10″ which includes instant high quality mp3's, with the vinyl being shipped to you in time for the release date of 1st of February. It's limited to just 250 hand-numbered copies so don't sleep! The vinyl will also be available from all good record shops with worldwide distribution by Kudos, and the digital version will be on all the usual stores, with customers of Beatport getting a bonus remix by the wonderful Echaskech.
If you want to get exclusive audio previews of our new releases this year, it's well worth following us on Soundcloud, where we'll be posting special updates for anyone who follows us. With new music from LJ Kruzer, Cursor Miner and plenty more on the way soon, this will be the earliest way to get your ears on fresh goodies.