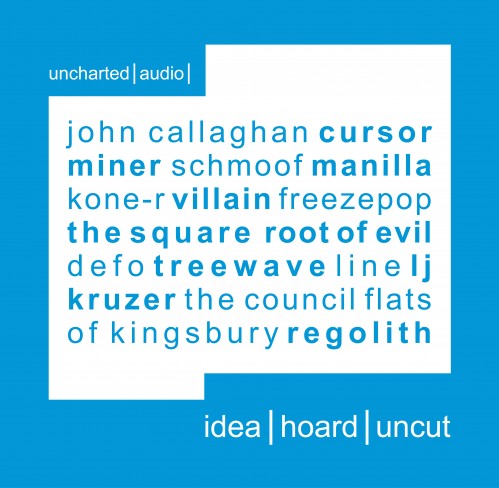 Listen
Buy
Cat
UNCH012CD
Format
CD
Tracks
John Callaghan – Do You Love It?
Cursor Miner – On The Razz
Schmoof – Rock Wife
Manilla – Lorenzo
Kone-R – Knob (Wrongtom's Dismembered Dub)
Villain – Turkoise
Freezepop – Parlez-vous Freezepop? (Le Remix des Proportions Divines)
The Square Root of Evil – You Can't Kill Me
Defo – First Girl on the Fire
Treewave – Sleep
Line – The Truth Will Out
LJ Kruzer – Huba
The Council Flats of Kingsbury – Theme From Fun in the Sun
Regolith – Jakarta Miasma
Press release
Uncharted Audio announce the arrival of their newest bastard lovechild, the cunningly-titled 'Idea Hoard Uncut'. This album – priced at a mere fiver to the UK punter – seeks further exposure for the label's current core roster, celebrates the success of artists which the label has introduced to the world, and invites a whole load of guest names down to the party – all of whom have performed at one of our 'Uncharted Sessions', west London's finest regular club night for crazy electronic shiz since 2004.
It's got an international flavour; the Sessions have seen appearances from many transatlantic guests – cult Boston synth trio Freezepop offer up an exclusive remix, stunning Canadian Jen Pearson (aka The Square Root Of Evil) pulls no punches on her debut and Dallas duo Treewave break out their obsolete computer game gear to take on My Bloody Valentine for their shoegazing crown.
Uncharted Audio has long had an obsession with pop from beyond the boundaries and this shines through, with efforts by one-time Warp artist and nude model John Callaghan, London synthpop duo Schmoof and current Uncharted boy-wonder Line. Pushing out even further is the debut cut from Defo – this new signing includes a certain Rob Tubb (Cursor Miner) in it's lineup and unleashes a beast of sizeable proportions in 'First Girl On The Fire'. The Miner himself naturally makes a solo appearance, as a staple of the label's output since release number one. Alongside Manilla and Villain (better known as electro-mogul Fil OK of legendary club night NagNagNag) he brings the dancefloor end of the spectrum.
But we didn't stop there… Uncharted has always been on the cutting edge of more refined electronica as well – LJ Kruzer's debut album for the label garnered serious critical acclaim last year and was actively supported by the likes of Plaid, Mixmaster Morris and Mary Anne Hobbs. An all-new cut, on show here for the first time, shows that LJ hasn't been resting on his laurels. The Council Flats of Kingsbury drops pure bossa heaven, and Hard-Fi tour dj and remixer extraordinaire Wrongtom gets busy with label boss Kone-R's 'Knob' (settle down at the back there!). The album is completed with a stunning ambient-jazz drone workout from Regolith, an act already wowing audiences with their live performances of 'music on a geological scale', including broadcasts on Resonance FM.
All but one of these tracks are on general release for the first time.
There's no better way to showcase the varied talents of the people who've helped make Uncharted Audio the unique musical node that it has become and will continue to be as we head into 2007.
Reviews
"Uncharted Audio's budget compilation provides a right royal bunch of shenanigans whcih range from pure DarkWave, through to deliciously mellow Electronica and pretty much everything in between. With Cursor Miner, LJ Kruzer, John Callaghan, Kone-R, The Council Flats Of Kingsbury, Line and more all present and correct, this is one budget CD that should keep you off the streets for a good few hours! Quality stuff."
(Review by Smallfish)
"All kinds of way out left field electro pop, found sound and cutting things that can't be explained in mere words… loaded with treats, every single track is worth your time, ears and the mere fiver the CD will cost you – very highly recommended."
(Review by Organart)
"Some label compilations are rather po-faced affairs, with artists striving to achieve varying levels of profundity in their contributions—not that there's anything wrong with that. But how refreshing to discover Uncharted Audio pursuing an altogether more playful vibe… Don't get the wrong idea: there's seriousness all right but seriousness used in the service of polished execution and results, which still leaves ample room for off-kilter eccentricities and wackiness.

"And wacky some of it assuredly is, especially the opener "Do You Love It?" where a chanting John Callaghan spars with a psychotically drooling Susan Huxtable. Equally high-spirited are the slippery electro-shuffle, driving dub, and greasy bossa-nova that arrive courtesy of Cursor Miner, Kone-R, and The Council Flats of Kingsbury. Schmoof and Freezepop handle the robotic synth-pop end of the spectrum while Line and Treewave prepare ravishing dishes from synth-pop and shoegaze ingredients. Some opt for more experimental routes: The Square Root of Evil burns up the rubbery synth track in "You Can't Kill Me", and a vocalist, his throat clogged with gravel, struggles to survive industrial quicksand in "First Girl on the Fire". Mention must also be made of Manilla's infectious rap-driven cornucopia of steamy horns and funky beats and Villain's electro-breaks visit to the S&M chamber. As eclectic as Idea Hoard Uncut is, though, one of the collection's strongest moments is also one of its most restrained: LJ Kruzer's "Huba", a gentle setting of piano-based elegance and a dreamy respite from the otherwise serious fun."
(Review by Textura)
"Varied and unwilling to stick to a schematic, this is a nice little cross-section of a burgeoning label. Off the chart!"
(Review by Boomkat)