Plenty to update you all on, so here goes without further ado…
5KG – 5 Years of Kone-R @ Ginglik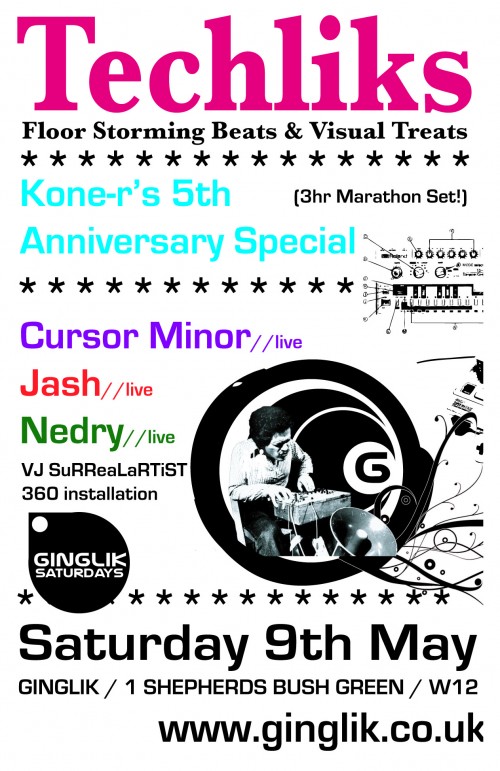 This week marks five years of Kone-R and Uncharted Audio's hook up with West London's finest beat bunker, Ginglik. To celebrate we have a special event there this Saturday and Kone-R has put together a free mix for you all to download. Here's the word from the man himself:
"Strange to think it's been five whole years since I first took to the Ginglik turntables, but then it's crazier still to think it's been more than seventeen years since I first attempted to blend a pair of records… all I can say is it's been an absolute pleasure! On the 9th of May I'm going to mark those five years of residency with an extended set covering all my usual bases across the night, from electro to techno to old skool breakbeats – plenty of bass, bleeps and vibes, from cutting edge newies to  stone cold classics, I'll also be using serato to complement my vinyl selections in public for the first time – all the better to increase the mayhem.
To all those people down the years who came, saw, danced, cheered, or just sat and listened… THANK YOU
To all the other DJ's, live acts, VJ's, breakdancers and other folk who I've shared a Ginglik bill with down the years… THANK YOU
To all those who protested against the closure of this wonderful and unique venue… THANK YOU
To all the Ginglik staff down the years who have given their hospitality… THANK YOU
To Colin and Tammi, for giving me the opportunity and generally being two of the most wonderful people in the business… THANK YOU!
Here's to the next five… long live Ginglik :O)"
Kone-R presents 5KG mix available here for free download.
The big event takes place this Saturday at Ginglik, 1 Shepherds Bush Green, London W12 8PH. Expect a three hour mix from Kone-R, plus a special live appearance from good friend Cursor Miner, and support from Jash and Nedry. Live 360 degree visual installation by Surrealartist…. details here:
Brand new Line tracks available for FREE
Download two new exclusive Line tracks.
They are totally free if you want the 128's. If you want a heftier format, you have the option of paying money but if you want them for free (by entering zero dollars) you have to hand over your email address. I don't think we can say fairer than that.
'Lenx' from the album will be available as a digital single soon, and of course the album is available now on CD, LP or download.
'Horrorlab'
The Council Flats of Kingsbury presents a short film entitled 'Horrorlab'…