LOTS to get through this month… first up:
Uncharted Sessions presents Line (live), plus guest dj's Dancon1 & Pete Stormcrow and resident dj Kone-R
@ Ginglik, 1 Shepherds Bush Green W12 (centre of the green, opposite the Central Line station)
Saturday 24th September 8pm-1am
Line
Brighton-born, Dutch-raised, Nottingham-based Neil Wells aka Line spins out glowing lo-fi electro love songs that seem touched equally by the hands of folk and gabba. Uncharted Audio were impressed with his grimey-breaks-meets-synthpop soundclash after he sent them a demo; he has drawn high praise for his appearances on Delta 9's 'D9 Plastics' compilation and has further compilation appearances imminent with London Electrics and Ginglik. Tonight, expect the first public airing of material from his forthcoming debut mini-lp, 'Tech Hits', due soon on Uncharted.
Pete Stormcrow & Dancon1
Two DJs who play out frequently on the electronica circuit. They reside at Law & Auder's long-running Rehabilitation nights at The Foundry, also co-running the popular Moonpalace electronica nights and more recently have started their own series of events – disco_r.dance. Expect everything from post punk to dub to gorgeous electronica
Kone-R
Uncharted honcho Kone-R completes the night, celebrating the release of his debut 7″ on the label, exclusive limited edition version available to buy on the night. Expect the usual rinse-out of cutting edge techno, electro, disco and synthpop.
8pm-1am (no entry after midnight)
3 quid to get in, free to full members, non-members please bring photo ID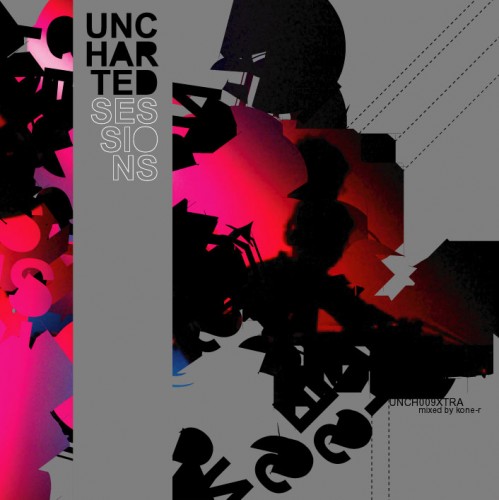 As mentioned above, our very own Kone-R has a 7″ single due, you can pick it up before it hits the shops by getting it from us direct, and there's a limited edition package available with a bonus full-length mix cd, pin badge and stickers, full details here.
We've broken the habit of a lifetime and can now offer digital downloads via our buddies over at Bleep. Only the LJ Kruzer album is currently available but keep an eye out as more of the back catalogue will be added soon.
You can download a free LJ Kruzer remix and propel him up the German download charts. This is a reworking of a track by Savoy Grand, a rather excellent band who feature in their line-up one Neil Wells (aka Line!).