well folks if you click on the links you can now find our new web pages for the forthcoming releases by Cursor Miner and LJ Kruzer including realaudio clips, label artwork, words of wisdom and even the fantastic cheekybeef video for cursor miner's 'library' which is of course lots better than watching tv.
these two releases will be in all good record shops soon – don't worry, we'll tell you where and when at the time. we don't believe in those pesky release dates as every time we decide on one it always slips. besides it's much more fun this way don't you think?!
however, you can be among the first people to own the new LJ Kruzer record (a spangly one-sided 10″ so you can even see yourself in it!) if you attend our fabulous launch party for the record on Tuesday 28th of October, where it will be available for sale. LJ has even told us he will be bringing along his special pen and if you ask him nicely (ie not during his live set!) he'll even personally sign it for you, giving your copy that extra ebay kudos in years to come. here's the full lowdown on the party:
Tuesday 28th October @ catch, 22 kingsland road, shoreditch (5 mins walk from old street tube)
7-12pm
uncharted audio presents the dub plates sessions (vol. 1) launch party!
lj kruzer (live)
kone-r (dj)
ua allstars (dj)
entry is free!
finally we don't like to blow our own trumpet (or anyone else's) but one-time UA artiste Kings Have Long Arms is doing rather well at the moment! His new single (a new version of his debut 'Rock & Roll Is Dead' with guest vocals by Phil Oakey of the Human League), previously only available on limited 7″, is about to be made available on cd for the first time on I Monster's Twins of Evil label. The record was 'track of the week' in the Guardian's 'Guide' magazine last weeken.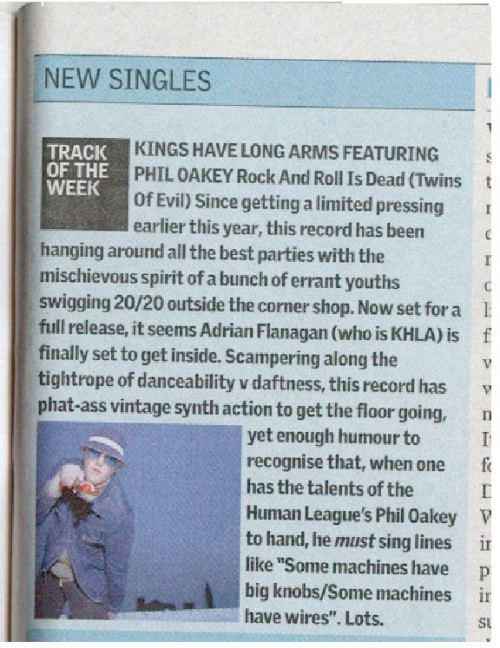 It was also played by Mark & Lard on BBC Radio 1 for the second time this week. Although they did question whether Kings Have Long Arms was 'one of the worst band names ever', which of course it isn't. Anyway, help propel long arms to the top of the hit parade by buying the single in the next couple of weeks – why not pick one up at the same time as the new UA releases while you're in the record emporium?
more exciting news in not much time at all!