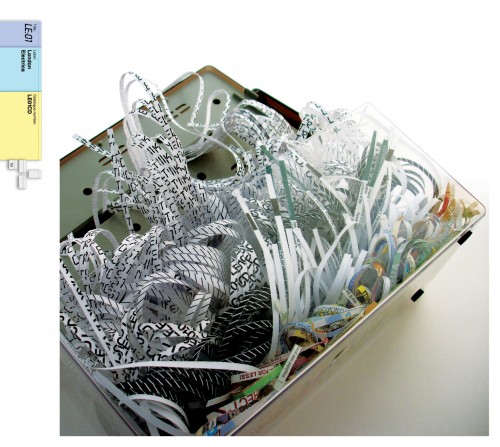 Listen

Buy
Cat
LE01CD
Format
CD
Tracks
Benge – Panhard
Bovaflux – Kleine
Blamstrain – Lumi
Jacen Solo – Abstract Soul
Fisk Industries – Largo Winch
Digitonal – Cantus V
LJ Kruzer – What Was Your Day Like
Yellotone – Tonight IQ
Vessel – State
Posthuman – Fall of Empire
11t1 – GuacOff()
Line – A Mistake
Press release
Q: What is London Electrics?
A: A new consortium of London based labels, promoters and crews pushing forward-thinking electronic music: consisting of founder member labels AI Records, Expanding, Highpoint Lowlife, Seed Records, SRL, and Uncharted Audio, alongside mp3 download site Bleep.com, design agency Build, and promoters Furthur.info
…what started as fellow label managers early in 2005 meeting up for beers, shooting pool, and a chance to discuss the various ups and downs of running independent music labels, has now developed something greater. London today has a thriving, yet fragmented, underground electronic scene. You can go out any night of the week and find something original, intriguing and inspired within electronic music – live shows, performances, installations and parties…if you know where to look. LE aims to bring all these people together, and expose some of the best new, and established, talents from the electric city.
This compilation is the first of many. Expect more music, events, film, and design as LE continues to grow.
Reviews
"really quite a sensational little compilation" (played the LJ Kruzer track)
Mary Anne Hobbs/Breezeblock, BBC Radio 1
"album of the month" (played the LJ Kruzer track and the Line track)
Chris Coco/Blue Room, BBC Radio 1
"a stunning collection of imaginative, strong and beautiful electronic music"
Nick Luscombe/Flo-Motion, XFM Radio London
Imagine if John Carpenter made a film in the early 80's set entirely in an office somewhere in the outskirts of Greater London, now imagine the soundtrack. Forlorn chords and distant drums supply the backbone of this first foray from the London Electrics collective made up by members of electronica labels including Uncharted Audio, AI and Seed. Rockbottom favourite LJ Kruzer sets the tone for this comp perfectly with 'What was your day like' hinting at a boy seemingly at odds with everyday monotony. Seriously good stuff all round….
(Rock Bottom)
LE:01 is a collaboration between six hip London labels: Ai, Expanding, Highpoint Lowlife, Seed, SRL, and Uncharted Audio. Some of the artists here are already well-known on the electronic music scene. This amazing collection offers a dozen high-quality tracks, many of which are exclusive. Benge kicks things off with a solid dose of melodic IDM. Clicky beats and thick pulses of bass mesh perfectly with music-box chimes. Bovaflux's "Kleine" is even sweeter, with liquidy percussion and soft, melodic notes. Jacen Solo's "Abstract Soul" is a departure—an odd, jarring clash of keyboards in different keys over an '80s beat. Thankfully Digitonal's "Cantus V" is more soothing with strings over a familiar, rhythmic groove. Another highlight is "Fall of Empire" by Posthuman which starts soft and quiet, then builds into a fierce torrent of beats. 11t1 offers a return to melody on the short, Global Goonish "GuacOff()." Finally, "A Mistake" by Line is classic synthpop with alienated vocals over bleeps, bass, and a retro drum machine. There's even electric guitar at the end. This is the hippest comp. I've seen in ages, with stylish design by Build and a line-up of artists who share a similar aesthetic. Best of all, it's introduced me to some new names and a couple of emerging labels. Fans of melodic electronics need to track this down.
(Gridface)
This is a most welcome collaboration, not only of artists, but of record labels with a vested interest in London's burgeoning underground electronic scene. Six labels have teamed up to deliver London Electrics Volume One; Ai Records, Expanding, Highpoint Lowlife, Seed Records, SRL, and Unchartered Audio. The result? A mesmeric collection of contemporary instrumental electronic tracks – mostly ambient in nature.

Some of the music on London Electrics is quite sublime, beginning with the track Panhard by Benge, which features sumptuous curving synth tones over fragmented loops – sparklingly melodic too. Kleine provides similar fare on Bovaflux, again, tasteful tones override bitty percussive elements. Jacen Solo briefly raises the tempo on Abstract Soul – a squelchy bassline dominates the rhythm, until microscopically programmed handclaps and toms take over.

Other key contributions arrive from Digitonal, on Cantus V, where creeping strings crescend menacingly until the track unfurls into a pungent IDM number. The LJ Kruzer track, What Was Your Day Like, is another standout – as a couple recite words over the sound of clanking dinner plates while alluring synths provide ethereal backing. Meanwhile, Posthuman's Fall of Empire broods a threatening vibe before building into a neo-industrial climax of clanking, mechanical beats.

Elsewhere, Blamstrain, Fisk Industries, Yellotone, Vessel, 11t1 add more angles, and Line closes with the only vocal track on the album…. it's great to see labels coming together with a shared sense of enthusiasm for electronic music, putting behind them all notions of competitiveness. That's why this compilation is so positive, because it's by people that understand the scene and care – the results are more than favourable.
(Barcode)
When six labels convene to showcase individual talents, one almost expects an aggressive onslaught with each one vying for the listener's attention. How pleasing to discover, then, that the six labels comprising London electrics Volume One – Ai, Expanding, Highpoint Lowlife, Seed, SRL (Suburb Record label), and Uncharted Audio – adopt a less obvious strategy. In lieu of seething noise, the collection opens with the delicate melancholia of Benge's (Ben Edwards) "Panhard," its clicking pulses and soft bass pads overlaid by hazy washes that recall the sound of Edwards' Tennis partner si.cut-db, and follows it with the glistening keys of Bovaflux's "Kleine" and Blamstrain's hauntingly atmospheric "Lumi."

Not all tracks are as peaceful, however. Fisk Industries' brooding "Largo Winch" lurches with a punchy dystopic snap while mournful vocalizing alternates with clattering mechano-throbs in Posthuman's "Fall of Empire"; Seed's other contribution, Digitonal's "Cantus V," merges clicking pulses with dense clusters of sombre string tones to equally dramatic effect. Other highlights: driven by gulping bass synths and handclaps, Jacen Solo's funk-soul groover "Abstract Soul" upholds Ai's rep for sleek elegance, and, in Scanner-like manner, LJ Kruzer's lovely "What was your day like" weaves mournful themes around looped samples of a married couple's banal conversation.

With the smeary textures of Vessel's "State" the rare hint of glitch, the comp's focus on melodic compositional structures makes the clicks'n'cuts era seem like a distant memory while Line's vocal-based electro-pop ("A Mistake") only makes the other material sound that much more forward-looking. With each London-based imprint contributing two exclusives, the hour-long collection (the first in a proposed series, incidentally) impresses as a fine sampler of current UK electronica.
(Textura)
It's circle the wagons time in the world of electronica, with a combination of MP3 downloads, public apathy and a scene that seems to consider success selling out forcing many labels into closure something needed to be done and finally it seems something is. Formed in the top room of a pub London Electrics is a collective comprising six up and coming labels, Ai, Expanding, Highpoint Lowlife, Seed, Suburb and Uncharted Audio and promoters Furthur, their mission statement to provide a visible platform for electronica labels and artists to promote themselves from. The collective have set their sights high with parties, a fanzine and a series of CDs showcasing the best new talent around and LE:01 is the first of these compilations. Twelve tracks from the likes of Benge, Digitonal, Yellotone, Bovaflux and Posthuman slot together to form a perfect electronic 'State of the Union' address, eschewing splatter-core beats for a more reflective ambient mood, LE:01 is a perfect primer for anyone wishing to reacquaint themselves with the electronic underground and worth the price of admission alone for the mundane beauty of LJ Kruzer's 'What Was Your Day Like' and Jacen Solo's sleek acid-penthouse soul.
(LED)