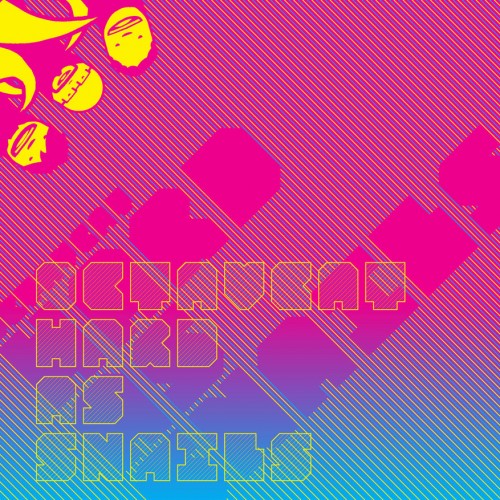 Listen
Buy
Cat
UNCH017
Format
Blue vinyl LP / Digital download
Press release
There are 12 people in Octavcat – Rich, Matt and Jamie. They are all brothers except for Jamie who is a brother from another mother (and father). They all really like music because music is really, really big and, as everyone knows, big things are good. "Hard As Snails" is their second album and is a little bit bigger than their first one. They had lots of fun making it and used things like keyboards and computer machines.
Uncharted Audio is delighted to announce the addition of Octavcat to its roster of musical delights. Previous releases for the likes of U-Cover, Unlabel and Blacknight saw the trio, based in England, Wales and Norway, gain critical acclaim from all corners of the electronic music press, and their stunning audio-visual live show has won them many admirers at festivals in recent years. Dropping on lush blue vinyl and a slightly extended digital version, "Hard As Snails" is the culmination of several years work and is certain to bring their playful yet crunchy electronica to a wider audience.
Tracks (vinyl version)
Wyndupfixit
Lagervullin
Lcary Sullaby
Amalogal
Blaenwern
Arpahpla
Winkle
Apoogiator (free mp3)
Little Friends
Jhumblecloud
Tracks (digital version)
Wyndupfixit
Winkle
Apoogiator (free mp3)
Autumn
Arpahpla
Lagervullin
Lcary Sullaby
Snowsteps
Amalogal
Nice Bit of Brass
Little Friends
Blaenwern
Jhumblecloud
Reviews
"This blue vinyl LP is a mix of crunchy and melodic electronica […] There's a fair whack of Plaid in there so if you're a fan of them you'll like it I reckon. It's been played a few times in the office now and everyone likes it now. Tinkly and crunchy with more melody than you could shake a stick at. Lush electronic music!"
(Review by Norman Records)
"Lushly crafted crunchy crackly squelchy electro pop tenderly dappled with longing lounge mirages and a kind of refined spectral grace that suggests much pouring over old Plaid records – sophisticated, slick and best appreciated for optimal super chilled impact with the lights lowered."
(Review by Losing Today)
"Jumping from twinkly electronica to mellotron glitch hop it's sometimes a real attention testing work, in that there are a lot of chops that you'll miss the first time round that you need to uncover again. 'Little Friends' is both big and melodic with its low end stabs being softened more than a tad by the keyboard melody and 'Winkle' has a awesome introduction melody that is crying out for a 'wonky' refix."
(Review by 3barfire)
Video
Octavcat – Hard As Snails Promo from Uncharted Audio on Vimeo.