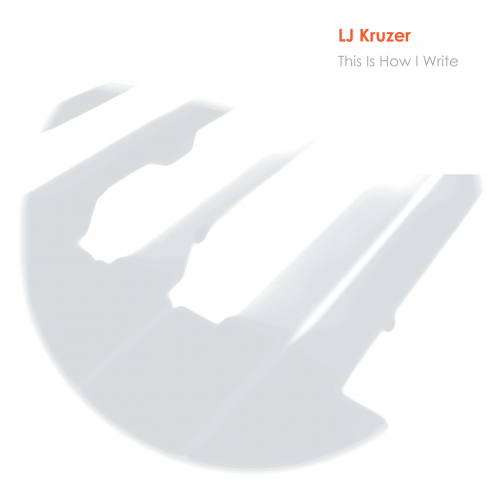 Listen
Buy
Cat
UNCH008CD
Format
CD
Tracks
This Is How I Write
Black Bossa (free mp3)
Twinkula
Parleyvoo
Bunker
Portune
Noft
Apporte
Press release
Uncharted Audio presents the long-awaited debut album from London's own Steve Fiske aka LJ Kruzer. In the last couple of years the Kruzer has carved out a peculiar niche for himself with a number of singles for Uncharted Audio, an appearance on a now highly sought-after LP on Ai Records and live performances across Europe.
LJ's dad, a vicar, used a home keyboard to accompany the hymn-singing in church and it was this same keyboard that LJ used to begin writing his own brand of melancholy ambience many years ago. But this album seems to reflect more of that background than just the warm lo-fi melodies… maybe when the NME wrote of his debut single that he 'brings the gentle epiphany' they didn't realise how accurate they were.
Last summer Kruzer smashed up the clubs with "Miami Nooch", which lead Fil OK of Nag Nag Nag fame to pronounce it 'My summer anthem'. But this year he's back with a different kind of soundtrack to your summer, one for kicking back in the shade from the sunshine and reflecting. Occasionally unsettling, often beautiful, but always engaging, this is a bona fide masterpiece from a unique voice in British electronic music.
Reviews
"I love his record!"
(Review by Mary Anne Hobbs, The Breezeblock, BBC Radio 1)
"An essential ambient purchase."
(Review by Kultureflash)
"Beautiful combination of electronics, samples and acoustic music from LJ Kruzer. Very mellow and soothing for the most part, with good use of almost classical sounding melancholic bits (horns, harpsichord etc) off-set by sweet melodies. Nice…"
(Review by Smallfish)
"After the Metro Area flirtations of last year's 'Miami Nooch' 7″, LJ Kruzer (aka Steve Fiske) has hung up his dancing shoes to produce an album that will thrill anyone with a taste for L. Pierre, Bola or Arovane. Opening with the title track, 'This Is How I Write' introduces its intentions through 3 and a half minutes of electronic ice, Rob sunshine and BOC vocal samples that establishes a thoroughly laid-back feel and welcoming ambience, that nonetheless hints at a well concealed malignant underbelly… You want cascading electronics? You got it ('Portune'). You want IDM-coloured atmospherics? Receiving loud and clear ('Black Bossa'). Some wonky folktronica that appropriates the naive charm of Badly Drawn Boy's early EP releases? No bother ('Parleyvoo'). In fact 'This Is How I Write' is bulging with electronica treats from beginning to end with Fiske choosing to augment his undeniably gorgeous collection of compositions with a piercing vein of digital acumen that can often be lacking from such releases. Very nice indeed."
(Review by Boomkat)
"LJ Kruzer might be from Germany? I don't know but his name sounds German and I just can't be arsed to google it. Is that in the English language yet? I can't be arsed to google that to find out…. oh the apathy is shameful. Well Mr Kruzer (first names Leonard Jack… you can live in hope…) has released a damned fine album of pretty electronica. What this sounds like I really couldn't say and I've been listening to it for weeks thinking of what to write and I've still no idea. It's pretty ambient with some nice samples here and there but overall it's the melodies and tunes which really makes this a strong release. Will probably appeal to fans of Arovane and the Type stuff… That kind of thing. Lovely…"
(Review by Norman Records)
"Organized religion gets a lot of flack these days – it's not so popular with the kids, personally I think the kids show a lack of conviction but that's not to say I'm a regular down the local mosque or synagogue myself. What I will say is, hundreds of year's worth of bloody wars is all justified just for that fateful moment when a fresh faced Kruzer sneaked a go on his Vicar of a father's keyboard which was used the previous night in church. LJ, or Steve to his dad, is still utilizing unorthodox methods to this day, producing ethereal soundscapes ranging from the glitchy melancholy of "This Is How I Write" to the plink percussion of "Portune." I was initially disappointed to not find last years Nag Nag Nag endorsed "Miami Nooch" in the tracklist (particularly as I lost my copy) but after listening through I realized LJ had made an LP of front to back niceness and Nooch probably would have upset the laidback flow. I tip my turban once again to Mr Kruzer and the good people at Uncharted Audio."
(Review by Wrongtom, Rock Bottom Video Magazine)
"This is how he writes – warmly; velvety, electronically; unsettlingly. Like an electro wolf in sheep's ambience, LJ Kruzer's surface is mellow, all piano melodies wafted across layers of layers of layers of mood and the odd beat or techno tickle. But his base instincts, his core, the intent, the true message is always there, just underneath. It surfaces almost fully on Apporte with its disturbingly disconnected vocal sample, 'the reason why there is death in the world today.' And that's what gives this collection its edge."
(Review by Robots & Electronic Brains)
"It's rare to hear religious samples used without obvious irony. LJ Kruzer, (a.k.a. Stephen Fiske) was born into organised religion, so who knows, but it does add to the moody melancholy. He begins composing at the piano, drawn by its emotional resonance, and perhaps that's what lifts his work above a sea of noodly laptops. The piano doesn't necessarily make it through to the finished track, but it is a constant presence. IDM beats are integral and don't, as is so common, try to outshine the music. LJ's world is a sleepy, atmospheric one, the slightly spartan aesthetic stopping short of lush. It's got character, too; Parleyvoo, offers a jaunty melancholy, with it's clip-clop percussion. A sermon on final track Apporte is slightly stretched and lethargic: I zone out at the best of times when people start talking about sin. But the music? I enjoyed all eight (plus one hidden) tracks."
(Review by Cyclic Defrost)