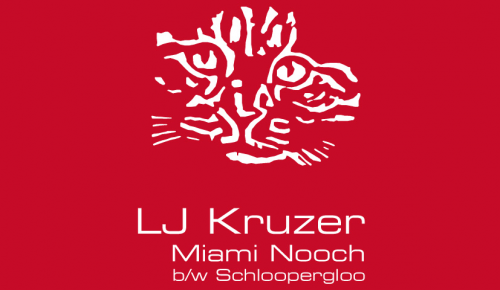 Listen
Buy
Tracks
Miami Nooch
Schloopergloo
Cat
UNCH006
Format
7″ (limited to 200 copies)
Press release
Uncharted Audio is proud to present the latest offering from London musician LJ KRUZER – 'Miami Nooch'. A staple of his recent live appearances in the UK and in France, this track sees the Kruzer in latino vocoder heaven. As well as appealing to the ever-growing fanbase of his melodic electronic styles, this is also going to garner attention from dj's currently pushing the resurgence in disco oriented grooves for the dancefloor.
The track is backed with another recent live fave 'Schloopergloo', which begins with deep and melodic 4/4 techno minimalism a la Villalobos and the 'click-house' ouvre before building into an uplifting finale where the one and only 'amen' drum break pops in for a chat and a nice cup of tea.
Uncharted will be following this release with an extremely limited edition cd-r ep featuring exclusive new tracks from the Kruzer, plus remixes from some of the leading lights in electronic music right now – Digitonal, Cursor Miner, King Seven and Kone-R. This will be followed later in the year by the debut full-length 'This Is How I Write'. His live show is growing into a must-see experience (with live microkorg vocoder action and cigar smoking working in tandem) and he will be continuing his busy schedule of appearances throughout the year to support these releases.
Reviews
"I love this guy, you hear me – I LOVE HIM, like I love Burt Reynolds. However bible readers don't have to worry about ruffled collars as that doesn't have to be wrong or dirty, yes he's a man, and so am I but put Miami Nooch on and you'll understand that the bond between two men doesn't always have to be sexual. Kruzer delves into the world of the too often exploited 4/4 kick drum and churns it around in his own impeccable manner till u get some truly individual house meets electro experimentation without losing the dance floor. The perfect soundtrack for late night cross-country trucking with Burt and Lee Majors."
(Review by Wrongtom, Rock Bottom Video Magazine)
"Good stuff from Unchartered Audio, the return of LJ Kruzer donning his dancing shoes for a glammed-up trundle onto the floor with a bit of a DFA pout and a smidgen of Metro Area swagger thrown in for good measure. "Schloopergloo" on the flip is more reduced and meandering – a microscopic 4/4 excursion through muted minimalism with a light dusting of glitter. Very cool."
(Review by Boomkat)
"Much more in tune with my big flapping ears is the warm sound of LJ Kruzer who has just released a 7″ on Unchartered Audio. This has a descending bass line I really like. Its a little bit electro -y with some vocoder like vocals. Nice."
(Review by Norman Records)
"It's become my summer anthem! Been playing it down Nag to a warm response. Really like it, it's so…..summery! Dunno anything about it, or LJ Kruzer, but am very impressed. Deserves to be huge, but as there's no musical justice in this society i'm sure it'll be overlooked, unfortunately. It'll be in my top 10 for a while tho."
(Review by Fil OK, Nag Nag Nag)
"If Derrick May had grown up around the Florida Keys instead of suburban Detroit he would have made this record in his prime. It's like Carl Craig trapped in an elevator with Kid Creole and The Coconuts."
(Review by The Felonious Punk)
Picture the scene – waves breaking on the bay, soft white sands, a blue lagoon… if Plaid were sipping their free drinks under the palms at Club Tropicana then this is what would be playing at the bar. LJ Kruzer has shaken up dreamy poppy sounds from the last two decades with a double measure of modern electronica to create the timeless cocktail that is 'Miami Nooch'.

It starts off with a lush, wistful melody which is soon joined by a beat evocative of Tears For Fears' rousing 80s anthems. Delicate vocoded vocals add sparkle to the bouncy rhythms. Although cowbells and claps sound a bit like a Casio keyboard bossa nova demo, this track is too stylish to sound kitsch. It's upbeat enough to be a hit on the dancefloor but the catchy synths ensure you'll want to play this over and over again.

On the flip of this dinky 7″ we have 'Schloopergloo' – a quiet affair with subtle twinkling melodies that slowly builds to a crescendo. It ends softly as it started with a tender piano solo.

It's an exciting time for Uncharted Audio, who continue to bring us refreshing electronic sounds from promising artists like LJ Kruzer; Miami Nooch is only his second vinyl release. It's all backed up with solid live performances so no doubt there's plenty more where this came from.
(Review by Suzie, Delta 9)