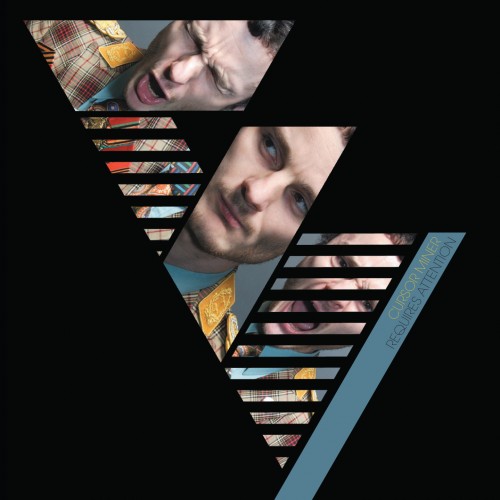 Listen
Buy
Cat
UNCH027
Format
CD, 2 x LP and download
Release date
28th October 2010
Info
Cursor Miner's fourth studio album "Requires Attention" will be unleashed by Uncharted Audio this autumn and is his most coherent and accomplished record yet. Featuring the singles "Mad Cow" (which spent 2 weeks on the DMC Update chart) and "Luna" (currently picking up radio play from Huw Stephens (BBC Radio 1), Nick Luscombe (BBC 6 Music), John Kennedy (XFM) and more), it combines everything that is good and great about Cursor Miner, which is basically just about everything.
You've seen the outfit. You've heard the scandalous rumours. You've landed the jump jet in tricky conditions. NOW HEAR THE ALBUM. Cursor Miner returns with a brand new load of sonic hassle. It's heavier than metal, it's beefier than a bullfight and it's more original than the first ever thing EVER.
Yes literally if you own this music you will be part of the new and better smelling era. You'll be so cutting edge you'll get a research grant. Normal people will look at you in utter revulsion and say, "What's that horrible noise?" and, "It's doing my head in" and you'll say… "Get with the program. Cursor Miner Requires Attention is the absolute boomba klart". YES. That's really what you'll say!
Yes people, a huge amount of money has been lavished on this album, if by "lavished" you mean WASTED! Which is what you'll be when listening to the indescribable levels of COSMIC SPAZZFUNK. This album used LOTS of posh software, a LOT OF ELECTRICITY, many parts of things, TECHNICAL things, stuff that you couldn't POSSIBLY understand. A laptop made in a VOLCANO, with a monitor made of GRANITE and a mouse made of GAS! A drum machine that runs on RAILS, a synthesizer powered by PLUTONIUM APPLES… These are just some of the TWISTED NEW SCHOOL wing wangs that the GENIUS Cursor Miner uses to create THE STUPIDEST NOISES IN THE WORLD™. It's at least 20% BETTER than the last Cursor Miner album, as measured by albumgoodnesstest.com, which is a newly invented software that tells you how GOOD something is.
Now I demand to know what the hell you're doing sitting there not listening to CURSOR MINER REQUIRES ATTENTION!
Tracks
Reject
The Golem of Bognor Regis
The Man With the Transparent Face
Mad Cow (Intensively Farmed version)
King Is a Killer
Failed State
Minibar
Silicon Savage
Chinese Water Torture
Full English Fastbreak
Luna
For Each Other
Reviews
"Rob Tubb's fourth offering is very much an album of contrasts. 'Reject', with its leaden guitars and Ian Brown-esque vocals, makes for a dark start, but the chirpy bassline and brass bursts of 'The Golem of Bognor Regis' then break the gloom. Dubstep plays its hand in the mental haunted cowbell action of 'Mad Cow (Intensively Farmed)', while elsewhere wonky electronics collide with all manner of twisted, half-poetry, half-nonsense lyrics. Musical references are as far reaching as the darkest of Primal Scream, Beck or Joy Division and the glitchiest recesses of electronica, techno and breaks. Genius or madness? Listen and decide for yourself."

8 out of 10.
(Review by Ian Roullier, iDJ)
"Chichester electronic producer Rob Tubb rattles through disparate musical genres with a uniformly cheeky raucousness. His fourth album lingers most on Depeche Mode's moody synth-goth but cannot maintain a serious tone – especially on Minibar, a surreal saga worthy of the Goons – nor curb his enthusiasm for ballistic percussive noise. The result is a wild, unpredictable and rowdily eccentric treat."

4 out of 5.
(Review by the Telegraph)
"Three albums on from his 2002 Cursor Miner debut album Explosive Piece of Mind, Rob Tubb continues to refine his blissfully twisted sound on the fourth opus Requires Attention. His tracks are severely tripped-out exercises in rave-addled quirk laced with tongue-in-cheek humour—consider the rollicking chant "Minibar," for example, which sets sail with a voiceover recounting a looney story about a 1965 ocean liner called USS Pencil Sharpener that sank, with its only survivor a minibar that floated for 300 miles until it washed up on an island to be worshipped by natives.

"Reject" ("the ground beneath my feet rejecting me…") opens the album with Tubb doing his best Jim Morrison imitation and doling out morose lyrics in a brooding murmur while electronics slowly mass into a sweeping wave. Though the album's material is solidly crafted, Tubb stays resolutely true to his warped vision, as viral concoctions such as "The Man With the Transparent Face" attest. Yep, "Mad Cow (Intensively Farmed version)" does, in fact, twist a cowbell into fulminating funky shape and couples it with a convulsive breakbeat throb whose corrosive slam would do any number of electronica artists proud; a similarly lunatic sensibility underscores the aptly titled "Chinese Water Torture." "The Golem of Bognor Regis" presents a wacky slab of disorienting electropop tomfoolery in the grand Aphex Twin tradition with Tubb's voice electronically treated into a degraded croak and backed by a sleazy electro-blues jaunt. Not that there was any room for doubt but the feverish jungle electro-chant "King is a Killer," nightmarish incantation "Failed State," and furious raver "Silicon Savage" prove that Requires Attention is anything but ambient music. Coming as it does after so much intensity, the acoustic folk-blues ballad "For Each Other" makes for an appealing exit. The album's dozen songs largely play without interruption so one is rarely able to get one's bearings before the next storm hits but that's obviously part of Tubb's grand plan for his latest full-frontal collection."
(Review by Textura)
"Cursor Miner has made an awe-inspiring fourth LP. 'Requires Attention' merges, and at times clashes, dubstep with breaks, IDM, downbeat and so much more. An album of some magnitude, it's the only place to find tracks about mini-bar worshipping tribes, with the most frenetic beats abound."
(Review by Martin Guttridge Hewitt, Bodytonic)
"Electronica maverick Cursor Miner deploys his fourth album, a journey into the lawless frontiers of pop music where just about anything can happen. Oddball opener 'Reject' is what you'd imagine Depeche Mode jamming around a campfire might sound like, while the more circuit-centric 'The Golem Of Bognor Regis' lurches more conscientiously in the direction of an electro influence, whilst also sounding a little like one of Atom TM's many guises in its absorption of chintzy exotica. One of the album's highlights, 'The Man With The Transparent Face' marks a turn towards a post-dubstep sound, embracing throbbing, pressurised basslines and aggressive beats whilst keeping it quintessentially Cursor Miner with a weird lyrical contingent. Following suit, 'Mad Cow (Intensively Farmed Version)' maintains the dark and distorted urban edge, while such diverse treats as the Rephlex-ish 'Full English Fastbreak' and the star-gazing cold-wave missive (and former single) 'Luna' keep the top quality content flowing."
(Review by Boomkat)